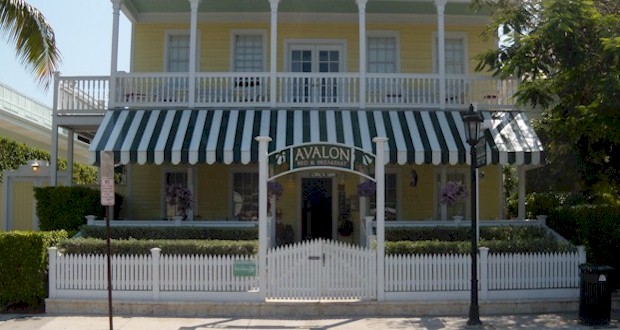 [Adsense468x15]
To really get into the laid-back mentality of the Keys, your best option for overnight accommodations is a Bed and Breakfast Inn. Personal, friendly, quaint and cozy are some of the descriptors that are usually given to these postcard perfect Guest Houses. Staying at a Bed and Breakfast a more personal experience, something that you don't always find at a traditional hotel. This is one of the reasons that a good B&B will have a large number of repeat visitors.
For those that have never stayed at a Bed and Breakfast, the most commonly asked question is – will I have my own bathroom? Rest assured, the majority of B&Bs do have private bathrooms. Depending on the size and the specific room, you may not have a tub, but you should at least have a comfortable shower. I've reviewed many B&Bs in Key West and have yet to come across one where guests had to share a bathroom.
As the name states, breakfast is included with an overnight stay. There is a good chance it will be a buffet spread consisting of pastries, bagels, fruit, juices, tea and coffee that is served buffet style on the porch. Want a mimosa with that? Consider bringing a bottle of sparkling wine to breakfast – this is also a great way to meet your neighbors and make new friends.
Rooms will be smaller than you might expect, and some may be downright tiny, but you if you are there for Fantasy Fest, you really shouldn't be spending too much time in your room. For reading (not likely) or relaxing (more likely) most Bed and Breakfasts have comfortable common areas inside and tranquil tropical areas outside where you can take a break from the Fantasy Fest craziness for a few minutes.
Seldom are two rooms the same at a Bed and Breakfast. Usually the rooms have unique names that loosely describe the room's decor. Check on-line as most websites will have pictures and a brief description of each room.
[Adsense468x15]
Questions to ask when checking out a Bed and Breakfast:
What is the size of the room? The size of the bed?
Does each room have a private bathroom?
Private entrance. Buildings and cottages that are separate from the main house will usually have a private entrance that is direct access from outside.
Is there on-site parking and are there any charges for parking?
Is there free wi-fi?
Will the room have a; TV, mini refrigerator, coffee maker?
Lastly, the question that should be asked for all hotels, Inns, Campsites – are there any additional (hidden) charges?
[Adsense468x60]