Some foods are synonymous with Key West. The following are my favorite Key West foods – the top 5 foods you must try when you visit for Fantasy Fest or any time of the year. Many recipes originated here and have been passed down for generations.
[Adsense468x15]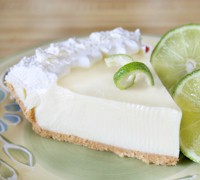 Key Lime Pie
A Key West original. Not too tart, not too sweet and always a soft yellow filling (never green!) This decedent treat originated in the Florida Keys where the small limes were commercially grown at one time. A dessert menu in Key West wouldn't be complete without including some variation of this cool, creamy treat.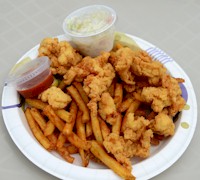 Conch Fritters
There are many ways to cook a conch, but frying seems to be the most popular. Tough but tasty is the usual description for this edible sea snail that was a Key West staple food in the 1800's. It was such a part of the early culture in the Keys that the residents themselves were referred to as conchs. It is most popular served breaded and fried for conch fritters but conch can also make a tasty chowder.
[Adsense468x15]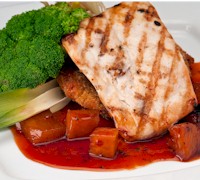 Mahi Mahi
A favorite catch for fishermen in the Keys. Mahi Mahi, also known as Dolphinfish is a firm white fish that is quite delicious and grills up perfectly. While in Key West be sure to take advantage of some of the freshest seafood anywhere – try it grilled or try it fried, in a bun or on a plate – it doesn't get much better than this.
Florida Lobster
The sesaon for this spiny lobster starts at the beginning of August and continues through the end of March, with a mini season in July. Basically there are only about 12 weeks when this sweet, clawless variety of lobster isn't available. Serve broiled with drawn butter… Yum!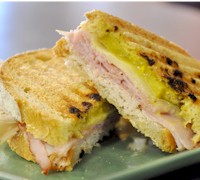 Cuban Sandwich
A Cuban Mix, made with ham, pork, cheese, pickles and mustard on Cuban bread then pressed. Another import from the Cuban immigrants who settled in Key West during in the late 1800's. You'll need to venture off of Duval Street to find the local's favorite restaurants. Be sure to try El Siboney on the corner of Catherine and Margaret streets.
[Adsense468x60]