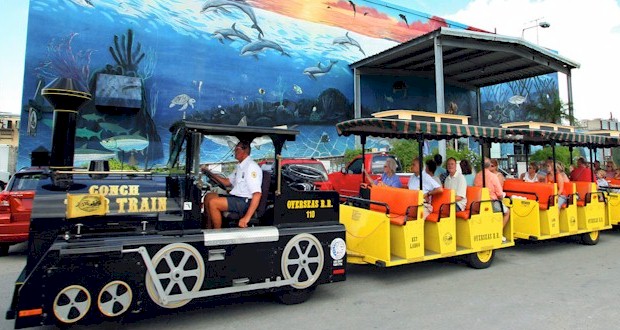 [Adsense468x15]
This is a great way to get an overview of the sights and sounds of Key West. Jump aboard at the beginning of your stay to get the most out of this informative 90 minute tour of the city. Painted to represent a train, each multi-car, open air vehicle will take you around to the city's points of interest, historical features and the Old Town area.
Educating and entertaining visitors since 1958, the Conch Tour Train will help you get acquainted with Key West history and popular landmarks. Though the tours all follow the same physical route, each tour captain puts their own personal spin on the story.
The cost is around $30 per person (children 12 and under are free). Tours begin at the Front Street Depot with a new tour starting every 30 minutes, or so. Two stops are made during the tour, Fruval Village or Flagler Station so if you already have a ticket and there is room, you can also board at either of these stops.
Being that the train is open-air, temperatures might get a little warm from mid-morning till evening so come prepared. Be sure to bring a hat, sun block and a water bottle.
[Adsense468x60]
Good to Know:
You can go on-line and request a brochure by mail. Be sure to allow a few weeks for delivery.
Last minute planning? You can download the Conch Tour Train brochure on your computer.
Custom tours are available for large groups.
The only day the tour is closed is on the last Saturday in October, which is the day of the Fantasy Fest parade.
Conch Tour Train
1805 Staples Avenue, Suite 101
Key West, FL 330401
888-916-8687 (TOUR)
[Adsense468x15]