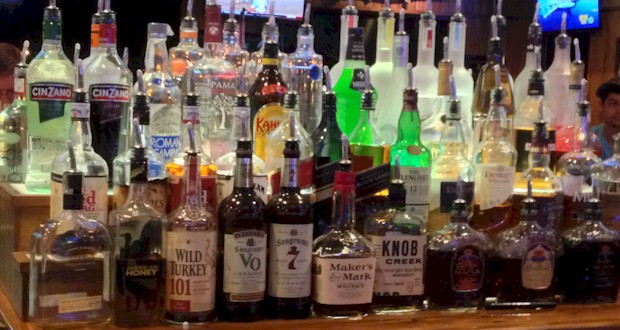 "See the Lower Keys on your hands and knees" was a slogan given to Key West once upon a time when there wasn't much else to do other than
watch the sunset
and drink.  Drinking is still a Key West mainstay, but now there are great dining options, nightly entertainment – and Fantasy Fest.
Key West, Duval St. It's only 10 a.m. and you're already sipping a pina colada. This is what island life is all about; you have to reset your nine to five compass to go where the trade winds go. No worries. No shoes. No problem. The bars close at 4 in the morning and reopen at 9 a.m. By noon there's warm grooves coming out of Willi T's and Captain Tony's, and this island ninety miles from Castro Country is already partying harder than most American cities on a Friday night.
Bar hopping in Key West is not for the faint of heart. Every hour is happy hour. And when Allan Jackson and Jimmy Buffett sang "It's Five O' Clock Somewhere," they were really referring to this town on the southernmost tip of the continental U.S. From The Green Parrot to Sloppy Joes, you'll need a hollow leg to drink your way down Duval St., not to mention Simonton, Whitehead, and the rest of the Old Town. Finding your way back to your hotel room can be an adventure. When all else fails, however, look for the guiding light of the Key West Lighthouse; that's what Papa Hemingway used to do after a few too many longnecks down at Sloppy Joes.
While the best way to experience the Key West bar scene is to follow the music and the drink specials, you're going to want to pull up a stool at one or all of these classic Key West watering holes.
The Green Parrot
Year after year The Green Parrot makes the list of the Top Ten Bars in America. It's chock-full of old signs, license plates, memorabilia, and assorted island junk. What to expect: your flip-flops sticking to the floor. What not to expect: food. The jukebox is legendary.
Hog's Breath Saloon
Hog's Breath is Better Than No Breath at All. That's the motto at this famous saloon. A biker-ish bar without the danger of a real biker bar, this famed institution on the corner of Front and Duval streets is known for its live music, bikini contests, and other unusual entertainment.
The Bull and Whistle
This bar occupies some prime corner real estate, and its tiered levels make it feel like it's actually three bars in one. The ground level has a sports bar vibe, complete with pool tables and darts. The verandah on the second floor, however, is the palace to be, as you'll have an excellent view of all the shenanigans taking place on Duval St.
Captain Tony's
Captain Tony's was the site of the original Sloppy Joes, which was Hemingway's favorite watering hole. Sloppy Joes, however, is now located across the street. Yeah, it's confusing. That being said, Captain Tony's has a wealth of Key West history hanging on its walls. Truman Capote, Jimmy Buffett, Shel Silverstein, and John F. Kennedy drank here, and you will find bar stools painted with their names. The tree that is inside the bar was Key West's hanging tree back in the 19th century.
Sloppy Joes
Hemingway's haunt and the most popular bar in Key West, Sloppy Joes is packed even on a Monday morning in the off-season. Chances are you won't see any modern scribes penning their version of The Sun Also Rises. However, you can expect to see some of the best bands in Key West as the bar is known for its large stage and killer acoustics.